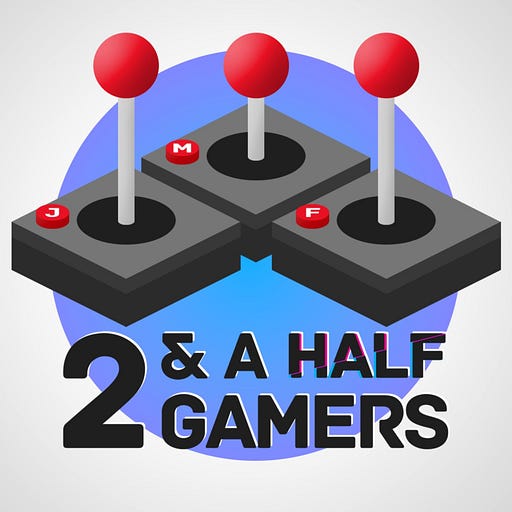 Mar 5 • 49M
two & a half gamers session #53 - Eversoul, a trending waifu game with full GD, UA, Admon review
4am conference discussion vibe
This is a no BS gaming podcast. We share insights, knowledge, and fun gossip relating to the topics of User Acquisition, Game Design, and Ad monetisation. You will find here actionable insights in a fun and relaxed atmosphere. A safe space where we mimic the honesty of a 4am conference discussion. Enjoy & let us know your feedback!
This is no BS gaming podcast 2.5 gamers session #53. Sharing actionable insights, dropping knowledge from our day-to-day User Acquisition, Game Design, and Ad monetization jobs. We are definitely not discussing the latest industry news, but having so much fun! Let's not forget this is a 4 am conference discussion vibe, so let's not take it too seriously.
Panelists: Jakub Remiar, Matej Lančarič, Felix Braberg
Youtube: 
00:00 Intro
01:05 Numbers Chit chat
03:22 No official multiple Admob statement (ask your admob rep)
05:00 Matej = Felix's secretary
05:28 Kimono session
06:11 Eversoul intro
07:02 Why are we even reviewing this (boring) game?
09:05 Full admon part in 2 seconds
09:39 Why games from the east don't have ads?
10:41 Camera zooms in on Jakub's premium BS
12:55 UA intro
14:12 Mr. Gachapool got introduced to the podcast
15:08 Comparing Eversoul to the Goddess of Nikke
16:54 UA dark secrets spilled by Mr.Gachapool
17:17 UA channel mix
18:22 Actual gameplay in the creatives
19:06 Creative strategy
21:35 Flamboyant UA strategy for Eversoul
24:52 Collabs in anime games
27:16 Starting to share gameplay of Eversoul
27:37 Game design Eversoul intro
33:51 Jakub talking about two different progressions
34:53 Please keep the story
35:23 Big +1 feature - engagement prolonging tactic
36:30 Felix looks really confused
37:04 Why is the game making so much money? GACHAPOOOOOL!
37:24 Can you buy a ticket to the waifu concert?
38:10 Infinite starter banner
43:27 Waifu games are saving mobile!
46:15 Get back to the podcast Jakub!
Please share the podcast with your industry friends, dogs & cats. Especially cats! They love it!
Hit the Subscribe button on Youtube, Spotify, and Apple!
Please share feedback and comments - matej@lancaric.me
If you are interested in getting UA tips every week on Monday, visit lancaric.substack.com & sign up for the Brutally Honest newsletter by Matej Lancaric
11 tips for killer User Acquisition ops (Q1 version) - https://lancaric.me/11-tips-for-killer-user-acquisition-ops-q1-2023/